Monday, April 4, 2016
Financial Liberation Just Ahead
Mission
The Financial Group will 1.) Educate and inform the public of the up-coming financial changes around the world. 2.) We will inspire all to initiate and maintain a bridge of stability between providers of goods and services and purchasers in need of those same services during the first two weeks immediately following the Event. 3.) Help implement humanitarian services.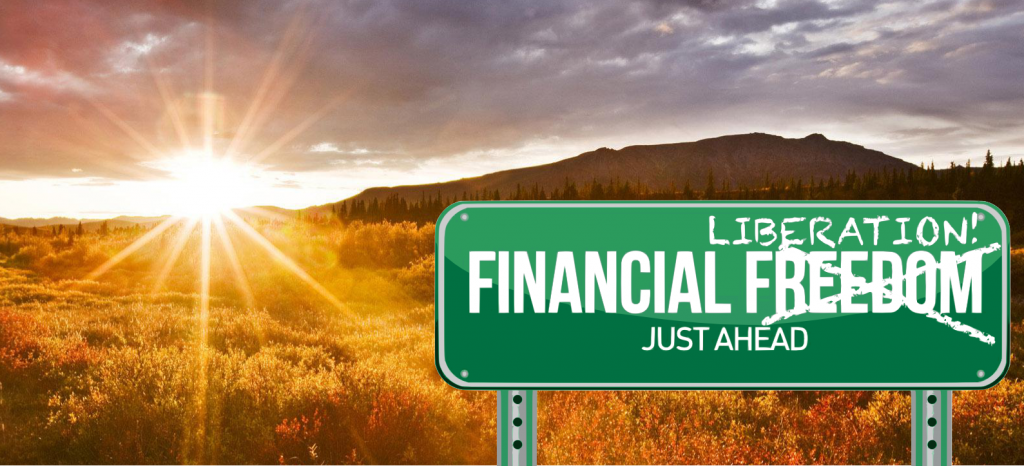 Vision
Lightworkers, awakened brothers and sisters, please understand that we are about to enjoy both a non-violent liberation of the planet along with a bright and beautiful future for ALL of humanity.
It is known that you will be better prepared than most, and we will need YOUR help to provide stability and calmness by setting an example of strength, and then using your knowledge to offer comfort and assistance to others.
Since we do not know the exact day, month, or year of the event, it would be wise to follow a few simple rules of precaution:
Keep an extra 2 weeks of food on hand starting now. Make sure you and your loved ones have an up to date supply of any medicines that might be required. Keep extra cash hidden away at your home. Gas up your vehicle when the tank is ½ empty. Stay in touch with this website for updates. If you are coming to this site without having prior knowledge of the EVENT, please read "the Event" button as we want to offer as much information as possible so that you can rejoice along with the rest of us as our entire planet along with its entire people move into the golden age together.
When the EVENT occurs all will be aware of the changes in the air, however you need to know that WE ARE NOT EXPECTING ANY NEGATIVE ISSUES WITH THE FOLLOWING INFRASTRUCTURE
Power outages,

Water shortages,

Cell phone disruption,

Civil disobedience,

Interruption of either medical care or normal emergency services.

What to expect Financially "AFTER The EVENT"
Vision for New Financial System – Transition from the Old Financial System to the New Financial System.
The current Financial System is malfunctioning and is being replaced with a new financial system. Do not panic. This is a good thing. Your needs will be provided for. As with any major change, the first few days are always the most confusing. Since all major TV networks, Internet, newspapers, and radio stations will be broadcasting quality information about The EVENT you can expect to become more and more comfortable as the day moves along. Below are instructions for the first 14 days.
Day 1 – within minutes of THE EVENT happening
(The Divine Galactic energy pulse).
All banks will temporarily close – no access to banks for 3-7 days (up to 14 days).

All credit cards and ATM machines will be temporarily disabled (up to 14 days).
The reason for this is to cut off access of funds to the illegal owners of the central banks around the world, known as The Cabal. Most businesses will be encouraged to stay open, and continue to accept cash and checks as they would in their normal course of doing business. Checks/cheques will clear as soon as the banks reopen.
(1-2 weeks after THE EVENT)
If you do not have access to cash, and are in need of basic necessities which cannot be accessed through friends, family, community or emergency services, a voucher system will be set up in order to pay for goods and services: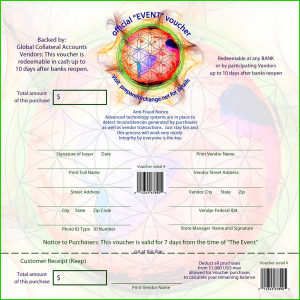 This is not free money. This is basically a loan to you for up to $1000. which may be used from the day of the event for food, medicines & necessities until such time that the banks re-open.
After that they become null and void, and you will be charged for the amount used. Businesses will be compensated for legitimate vouchers which they then can process through any bank. Those people who elect to use vouchers to purchase goods and services will be responsible for re-payment either through their bank, or as an offset against future earnings.
Additionally two additional and integrated plans were developed by the Prepare For Change team outlining step by step and easy to implement contingency measures for retailers and wholesalers to work around the expected temporary shutdown of banking systems and ATMs. They are for immediate distribution by the Event Support Groups at the time of Event within their local communities and at national level, with a special focus on retail and business managers throughout the supply chain. Those documents are in the following links and translated into multiple languages:
http://communityleadersbrief.org/2016/07/13/how-the-insurance-industry-can-help-if-the-atms-stop-working/ http://communityleadersbrief.org/2015/09/06/a-business-continuity-plan-for-producers-distributors-and-retailers-of-essential-goods/
Also:
All currencies will still be alive

There will be a financial re-evaluation after the Event – gold, currencies, etc.

There will be transparency accounting with banks that reopen.

Interest charges will stop.

Fractional banking will cease.

The IRS will be dismantled immediately.

All Banks with strong ties to The Cabal will be bankrupt.

The Federal Reserve will be dismantled immediately.

All debts will not be forgiven, meaning if you used credit cards to buy goods thinking your debts were forgiven, that will not be acceptable.

Food, shelter, and technology will be available for everyone.

No gold will be traded on the open market.

There will be no more homeless people.

There will be no more stock market.

Money in bank accounts will be frozen from reset to the new bank system (3-14 days). If funds were acquired legally, then the money will be kept.

The Cabal's money is illegal and will be seized.
More Future Details to The Changes for The New Society:
The only tax will be 14% on new items purchased.

Humanitarianism will reign.

New technology will be released but electricity grids will be kept going through the conversion.

Everyone will receive $100,000 from collateral accounts.

Debts up to $100,000 will be forgiven. If over that amount, it will be analyzed. Real outstanding debt will be taken from that amount or if not enough, you will be advised to go into bankruptcy.

All countries' debts will be forgiven.

Mortgages will be cancelled out.

Retirement accounts will be preserved.

Social security/retirement/health care will be changed; free health insurance will be provided for a new, advanced medical system.

The average work week will be 3-4 hours a day, 5 days a week.

Production costs will decrease.

All legal contracts will be respected.

The police force will be restructured for protection, not money collectors.

Common law will be respected – not distorted.

Most credit card debt will be cancelled.

Speculation will not be tolerated, and you can not rack up your credit cards now, expecting them to be cancelled out later without being on the hook. There is financial tracking.

Most of Congress (U.S.) will be disbanded.

Congress will close at reset. (Goes for all countries)

There will be new elections for Congress (All governments worldwide) within 4 months of RESET.

Monsanto, the corrupt part of Microsoft, will be bankrupt immediately. Same for other corrupt companies.

Most prisoners will be released and receive psychological counseling and training because they were forced to do things due to life conditions. Many will be released because they are innocent.

CIA operated drug trade will cease, and drastic restructuring will be needed.

When we are all fully 'healed,' we will stop eating meat (animals will be appreciated for what they are).

There will still be bankruptcies.

We won't be able to have factories in China any longer.

Most Companies will keep operating.

Companies will buy back shares and give investors back their money.

The Resistance will help and advise.

The electrical grid will be intact, however when The Cabal goes down, we may have darkness for short intervals.
See link: New Financial System
https://2012portal.blogspot.com.br/2012/04/normal-0-microsoftinternetexplorer4_28.html
Financial life after the "EVENT" will be vastly improved now that the bonds of debt illegally imposed by The Cabal are removed. Every person on the planet will have funds available for improving their lives.
Victory to the Light Is Near!
by DaNell Glade, Rique Seraphico & Jeff White
https://prepareforchange.net/financial/